In Summer 2013 I travelled to Chaparda to volunteer at Brahmanand. It was my first visit to rural India and Brahmanand so I did not know entirely what to expect or how I would cope with living there. Upon arrival in Brahmanand however, it immediately became clear to me that it is an idyll compared to the stark realities of life and living conditions in the surrounding villages that I briefly witnessed on the drive to Chaparda and, together with the warm welcome I received, any apprehensions I had were instantly lifted.
The Brahmanand community, including Bapu himself, were very hospitable and made my stay comfortable. However there was one challenge I had to overcome-living with the weird and wonderful insects that set up camp in my room each day. This took a while to get used to and on a couple of occasions I had to ask the guesthouse caretaker to remove a cricket/wasp which he was very kind to do so. I am pleased to say insects do not faze me at all now!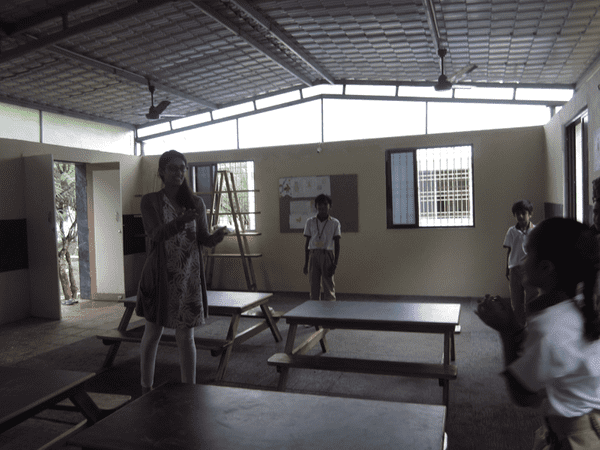 After a day's rest I started at the newly opened English-medium primary school, where I mainly assisted the teachers in various classes. For example, I taught Hangman in English, Hot Potato in Activities and Heads, shoulders, knees and toes in Music. It was really lovely to see the joy on the children's faces as they took part in these new and exciting activities that we take for granted. The teachers too were unfamiliar with the games so I'm glad to have introduced them and hope that they continue to be used. I was also able to take some classes on my own; although initially daunting to manage a class full of young children the teachers were very helpful and I soon got the hang of it. The children's exposure to English is pretty much limited to the time they spend in school so I tried to speak to them in English as much as possible. Although they don't understand fully they were able to pick up some words and simply hearing the language is beneficial for them. One afternoon I randomly met one of the children's mothers in the Brahmanand reception who told me that her daughter told her there is a girl who comes everyday and teaches us English. This was a particularly memorable moment for me as I knew then that I was making a difference to at least one child.
Outside the classroom myself and another volunteer were given a mini project of constructing make-shift science toys using easily available materials for the children to use in science lessons in the future. This was quite a challenge as I had to tap into my creative side which has been collecting dust for many years, but it was great to see the end product as we completed each toy.
In the evenings I went to the girls' hostel to teach Kathak dance sessions in which I started with the basics gradually working up to a small routine. The girls are very fond of Bollywood dance, always copying routines from the TV, so I was glad to be able to introduce them to a new dance form that they can utilize when creating their own dances. By the end of the sessions the girls had collapsed to the floor in tiredness and expressed their enjoyment to me. To know that they had been challenged and sharing my knowledge and skill in Kathak to such enthusiastic, appreciative students was extremely rewarding. In addition I conducted focussed English sessions doing speaking practice, brushing up on important basic phrases and nitpicking mistakes. I took the girls in small groups so that I could give individual attention thus enabling each girl to make progress in their own learning.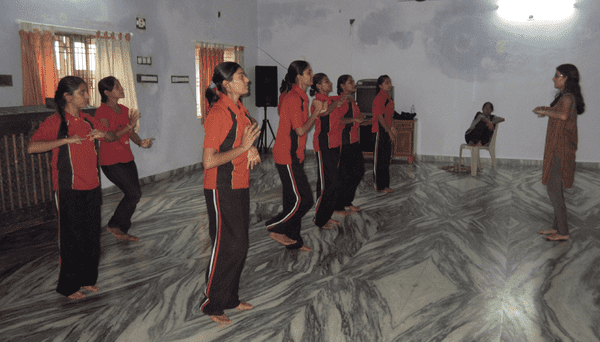 I also taught English at the Gujarati-medium school to all standards. In these lessons I either taught a particular basic grammar point (new or a recap), conducted games to practice spelling and vocabulary or did English roleplay. For one class the regular teacher asked me to prepare a PowerPoint presentation on comparatives and superlatives and one on riddles which the students would enjoy. Teaching to big classes of older children was a different experience and challenge compared to primary school but was just as gratifying.
I also visited Jay Ambe Hospital-as the only hospital in the locality it serves hundreds of people daily from the nearby villages and is thus thriving. I witnessed some work in action including a delivery which was incredible.
My month in Brahmanand was eye-opening and enriching. I met inspiring children with a thirst for knowledge and a community who welcomed me with open arms and from whom I learnt a lot. I feel privileged to have been able to make my own contribution to the remarkable work that happens at Brahmanand to support and enhance the children's futures.