The BEHT Trustees are delighted to be able to share with you the news that our founder and Chairman Ajay Gudka was awarded the MBE (Most excellent Order of the British Empire) by Queen Elizabeth the II in the New Year's Honours list – For services to Charity and the community in Gujarat, India.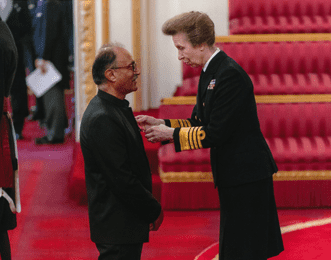 The award was in recognition of Ajay's 20 years of dedicated selfless charity service for which he has worked so enthusiastically, tirelessly and without any expectation whatsoever of any form of reward or recognition. Hence it is extremely well-deserved, and our congratulations go out to Ajay.
Whilst the award has justly been bestowed upon Ajay, each and every one of us should take immense pride and joy from the fact that we have accompanied and supported him for at least a part of the journey over the last two decades. A task (and it is still unfinished!) of the magnitude accomplished by BEHT and its sister charities BET and HAT based in India under the supreme guidance of Pujya Muktanandji Bapu can only be achieved when so many of us stand united in purpose.
The real winners of course over the last two decades are the thousands of deprived children, sick and elderly as well as the large number of animals in very rural parts of Gujarat that have benefited and whose lives have been miraculously transformed.
Once more, a huge "thank you" to all of you for your continued support and commitment to BEHT. God bless you!"
With best wishes,
BEHT Trustees