Since 2014, we have undertaken perhaps our most ambitious and wide reaching project, Anand Dhara (which means 'A flow of happiness'). The project currently includes 37 villages within the Visavadar District near Junagadh, Gujarat, and aims to improve the quality of life by taking a holistic approach which looks at a range of key areas - education, health, farming, animal welfare, sanitation and hygeine, the environment, and social issues.
The project has the following core aims in these areas for each of the 37 villages:
Education - improving the facilities and standard of education
The project has adopted 41 government schools in these 37 villages.
Many of these had previously struggled with poorly trained teachers, a lack of administrative oversight and overstretched and poor facilities – a common trait amongst state-run rural schools. The tarnished reputation of these schools meant that many people would send their children to private schools for a better education – even if this stretched their personal finances – whilst the poorest had no other options. This was very detrimental to social mobility.
To change this situation, BEHT are taking the following steps to set up and maintain quality education for all:
Improving the infrastructure of government-run Primary schools with new builds if necessary following the BALA (Building as a Learning Aid) standard for 5-12-year olds.
Regular training for teachers and management, using new curriculum and teaching styles based on the PRAGNA system, which is child-centred, like Montessori.
47 Angan Wadi (Nursery Schools) to support an easy transition into Primary schooling for 3-5-year olds have been started in these villages.
Personal, Social and Health Education (PSHE) - Through the use of our mobile van, each school receives valuable lessons in PSHE. This is an opportunity to provide a wider curriculum, teaching children about personal hygiene and health issues, as well as social responsibility towards their family, village and wider society.
Every Sunday, the Anand Dhara Project provides all children with a free meal, followed by recreational activities.
IT equipment and education - Computer tablets have been provided to each teacher and Wi-Fi access has been developed in all Anand Dhara schools. Along with specialist educational software these are now being used to enhance the delivery of lessons and bring the world closer to the children.
Once a week, the village children learn English. Combined with their learning of computer skills, this gives them the ability to engage with things happening across the world.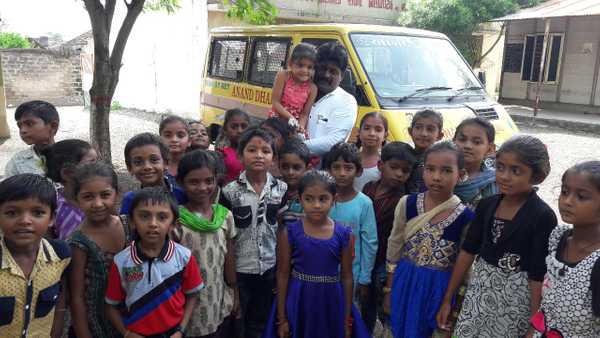 Health - increase health awareness
To promote good primary health care to all surrounding villages, Jay Ambe Hospital organises medical camps to be held in different villages each month.
Farming - encourage best practice in farming using proven modern methods
Farming is the main livelihood of the majority of these villages and most farmers tend to own about 25 acres of land. The main crops grown are groundnuts, cotton, wheat, millet, sugarcane, mangoes, etc. As the farm holdings are small and most farmers are not educated, there is very limited use of modern farming techniques, and uptake of the many available Government subsidies is low. Water is a scarce resource in this region which has to be managed carefully with government-built water dams to ensure a supply remains throughout the year.
Through this programme, training sessions on modern techniques are regularly held in Chaparda through seminars on use of drip irrigation, use of greenhouses & net houses, use and benefits of organic fertiliser, encouraging tree planting, water conservation methods, building check dams, importance of biodiversity etc. In 2016, Anand Dhara organised a group of farmers to go on a 3 day visit to an Organic Agriculture show in Maharashtra. The aim of these seminars and visits is to empower and educate the farmers so that they can farm more effectively and in turn increase their income.
Animal Welfare - educate on best practice for caring for livestock
Almost every household in each village keeps livestock like cows and buffaloes for milk. As with farming, seminars are held in Chaparda to promote best practice in animal welfare like keeping the Gir breed of cows which produce nutritous milk, helping in breeding a good stock of cows. The team also regularly holds animal camps where free check-ups and treatments can be carried out by a team of veterinary doctors.
Sanitation and Hygiene - educate and encourage good hygeine and use of toilets
With the recent subsidies offered by the government for every household to have a toilet, Anand Dhara has encouraged and facilitated this for any families that did not already have one. Again, seminars have been held in Chaparda educating on hygiene and sanitation.
Environment - reduce waste/litter and encourage recycling
Through the mobile van programme, an environment teaching programme has been developed. Through this initiative, several village groups have got together with Anand Dhara representatives to clean their villages. They also learnt how to manage their waste by recycling or destroying it.
In all schools, a programme has been developed to enhance the school environment with flowers and plants to encourage birds to visit.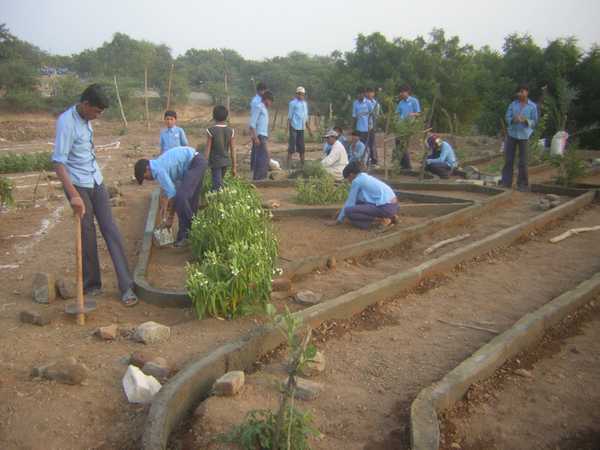 Social Issues - raise awareness of issues and empower women and youth
Samuh lagna (Mass wedding) - many people in the villages spend way beyond their means in weddings which leaves them with a lifetime of debts. Pujya bapu through the Anand Dhara programme, encourages the community leaders and the village elders (Sarpanch) to promote 'Samuh lagnas' (mass weddings). By doing this, the wedding costs are shared between hundred or so families. This saves huge amounts of money which the families can use to set up the new couples' homes for example.
Another initiative the Anand Dhara programme has started, is creating youth and women groups in each village to give them a dedicated space. This initiative has led to a lot of positive activities within the groups and a few groups have also started contributing to the wider village community by taking on the responsibility of keeping their village clean.