Our third centre is in Savarkundla, about 50 miles from Chaparda, where 500 street children are being educated in two schools. At the beginning, children were taught in small rooms in the slums. Now it has two new purpose-built schools.
These primary schools for 3-8 year olds were started in 2004 by Dr and Mrs Banjara in order to teach the many street children in Savarkundla, and has come into BEHT's management since 2012.
These children's parents typically earn a meagre wage doing seasonal work or manual labour. In order to put a very basic meal on the table, children as young as three would roam the rubbish heaps and gather plastic bags and bottles to sell, or do menial jobs. This could earn them Rs50 per day to add to the daily income to feed the family. These children need to work to ensure the daily income and hence do not attend any school.
The government schools are stretched and do not have the dedication to support and nurture the street families in overcoming their daily strife in ensuring their children get the basic literacy and numeracy skills. Initially, the children were taught within their local areas in 5 makeshift classrooms. Once the families were committed to the idea, these "classrooms" were soon seen as unsuitable and two purpose built schools were started which were spacious and airy with clean toilets and good storage for the teaching resources.
There is a staff of about 20 teachers who are from the same communities and understand the hardships faced daily by these families. They do home visits and develop excellent home-school links. Each child's absence in the initial stages is followed up to clear any obstacle to them coming to school daily.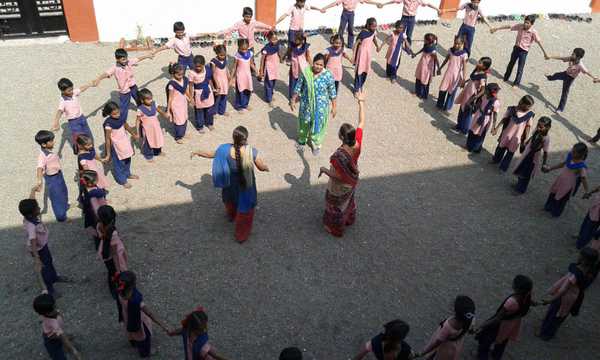 It was decided to keep the schooling for half a day, six days a week so the children can carry on bringing in some income. A new curriculum from Gyan Shala, a course devised for slum/street children by IIT (Indian Institute of Technology) students in Ahmedabad. The syllabus is based on teaching literacy, numeracy and project work and is presented in a child centred way with singing and dancing and encourages children to speak to develop their confidence.
Children are also taught and supported in developing personal hygiene and are provided with 2 sets of uniform and a satchel. Children are encouraged to come to school having had a wash, combed their hair and in a clean uniform. Despite the schools running well, it was obvious that these children were malnourished and often hungry when they came to school. From 2011, we have been providing a healthy snack to each child. Now, we are aiming to provide a carton of fresh milk each day.
The teaching programme is popular with both teachers and students, and independent external experts have confirmed that great progress has been achieved in the last ten years. The children leave the school at the age of eight after 4 years learning to read, write, speak and socialise as well as many other life skills (gaining self-confidence, to mention one) which help them to get on in the world even if they do not enter further education.
The parents are encouraged to send their children to Government schools in the local area for further education and almost all do when they leave our schools. The informal surveys and interviews conducted over the past years show clearly that the parents/guardians are very happy with the teaching and achievements of their children.